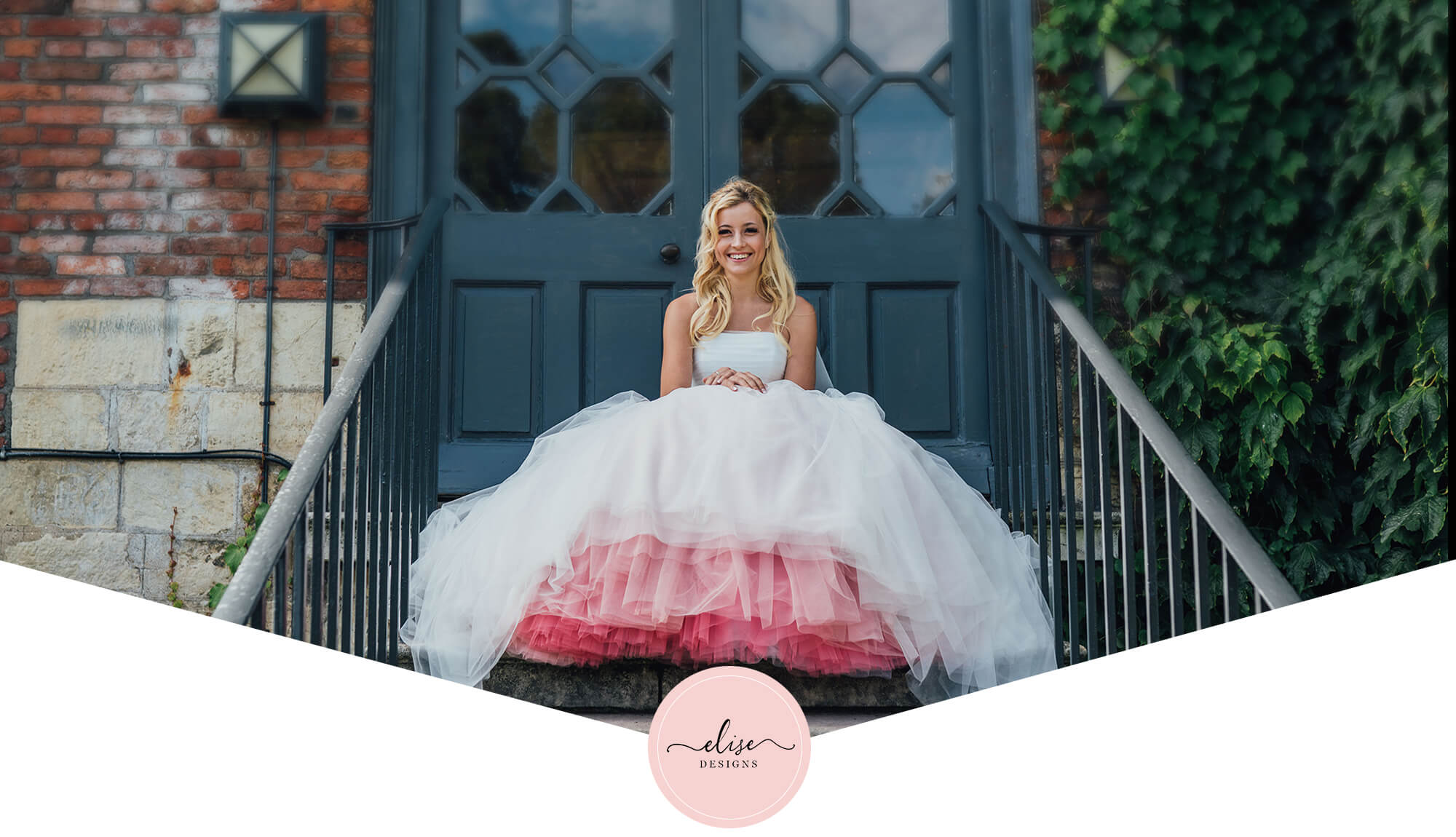 All fashionistas know that the accessories are what either make or break an outfit and that is why we put a lot of attention and detail into ensuring that we get this part right and perfectly complement your wedding dress. Offering a range a veils, garters and headpieces so we're sure you will find something unique and special that you just cant get on the high street.
Veils
Each of our veils are hand sewn and come in a variety of lengths and styles with lace and designs to match your dress. As with everything we do at Elise Designs, we make our veils in house from start to finish using the traditional manufacturing techniques and hand sewing skills. 
With prices starting from £80 for a plain 90" length veil, contact us today to find out more about how we can help elevate your wedding outfit to the highest level. 
Garters
A grater may seem like a small detail but there is a lot of tradition based around a wearing a garter on your wedding day. Whilst originally garters were worn to keep stockings from falling down it soon moved on to wearing one as a wedding tradition. Much like the bouquet toss for the ladies at the wedding the garter toss is especially for the men. Having a piece of the wedding dress is meant to bring good luck to whoever catches it. Some brides like to wear two garters when they get married, one to toss and one to save as a keepsake. 
Having a bespoke garter made means that you can have something made from the same fabrics as your wedding dress or even have something unique made so it reflects your personality. It can even be made with 'something blue' to combine different traditions. 
With prices ranging from £25 to £45, if you are interested in finishing off your outfit with a bespoke personal garter then contact us today.
Headpieces – coming soon
There are times that a veil just is not the look or feel that you are after, but you would like something to complete your hair-look. Offering a range of headpieces ranging from: hair pins, hair vines, hair combs and headbands, we will be able to find that perfect bespoke accessory to go with your overall wedding outfit.
Each headpiece is made by hand in our York studio with the individual components also created from scratch, many of which requiring specialist equipment such as laser-cutters to ensure a high-quality end product – particularly when fabric 3-D flowers are requested!
Note: we are still in development on a range of signature Elise Design headpieces and we expect to have these completed by Summer 2020. However, if you have any need or requirement for a headpiece prior to then, then please get in touch as we are taking and completing orders.